RSS FEED OF LATEST ONLINE ISSUES
CiteScore ranks Environmental Values 10th of 606 Philosophy Journals (and 39th of 201 general environmental science journals).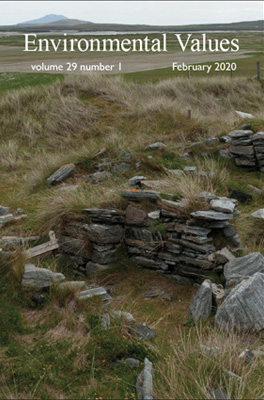 Environmental Values is an international peer-reviewed journal that brings together contributions from philosophy, economics, politics, sociology, geography, anthropology, ecology and other disciplines, which relate to the present and future environment of human beings and other species. In doing so we aim to clarify the relationship between practical policy issues and more fundamental underlying principles or assumptions.
• Independent (owned by White Horse Press).
• Subscription Journal: Print and Online since 1992 (Ingenta, JSTOR)
• No Page Charges (Paid Open Access option available)
• Double blind peer reviewed
• Impact factor
ISSN: 0963-2719 (print) 1752-7015 (online).
Environmental Values has a Journal Impact Factor (2019) of 2.158
Environmental Values is indexed or abstracted in: Current Contents, Economic Literature Index, Environment Abstracts, Environmental Policy Abstracts, Geo Abstracts, GEOBASE, ICEL References, ISI Social Science Citation Index, Land, Life and Leisure, The International Bibliography of the Social Sciences, The Philosopher's Index, Referativnyi Zhurnal, RePEc, Social Sciences in Forestry, Sociological Abstracts.
Papers should be submitted using our online submission system
We now offer advance access to the full text of selected forthcoming articles and book reviews
---
Follow Environmental Values on Twitter (Tweets by Norman Dandy)
---
EDITOR-IN-CHIEF
Clive L. Spash, WU Vienna University of Economics and Business
Website: www.clivespash.org

MANAGING EDITOR
Simon Hailwood University of Liverpool

ASSOCIATE EDITORS
Nick Bardsley, Economics, University of Reading, Economics

Norman Dandy, Bangor University

Tom Greaves, Philosophy, University of East Anglia

Marion Hourdequin Philosophy, Colorado College

FOUNDING EDITOR
Alan Holland

REVIEWS EDITORS
Alexandria Poole, Department of Philosophy - University of Twente, P.O. Box 217, 7500 AE Enschede, The Netherlands

Piers Stephens, Philosophy Department, University of Georgia, 107 Peabody Hall, Athens, GA 30602-1627 USA

EDITORIAL BOARD

Stewart Barr, University of Exeter, Geography
Ulrich Brand, University of Vienna, Political Science
Isis Brook, Crossfields Institute, Philosophy
Claudia Carter, Birmingham City University, Environmental Governance
Ali Douai, University of Nice Sophia Antipolis, Ecological Economics
Martin Drenthen, Radboud University Nijmegen, Environmental Philosophy and Ethics
Katharine N. Farrell, Humboldt-Universität zu Berlin, Ecological Economics
Breena Holland, Lehigh University, Political Science
Richard Howarth, Dartmouth College, Environmental/Ecological Economics
Simon James, University of Durham, Philosophy
Nadia Johanisova, Masaryk University, Ecological Economics
Giorgos Kallis, Universidad Autonoma de Barcelona, Ecological Economics
Alex Lo, Victoria University of Wellington, Ecological Economics/Geography
Alex Loftus, King's College London, Geography
Katie McShane, Colorado State University, Philosophy
Barbara Muraca, Oregon State University, Philosophy
Anja Nygren, University of Helsinki, Development Studies
Begüm Özkaynak, Boğaziçi University, Economics
Clare Palmer, Texas A&M University, Philosophy
Ariel Salleh, University of Sydney, Sociology/Critical Theory
David Schlosberg, University of Sydney, Environmental Politics
Peter Victor, York University, Environmental Studies
Mark Whitehead, Aberystwytyh University, Geography